Tim Harford is a senior columnist for the Financial Times, a writer and a public speaker, his debut book The Undercover Economist sold one million copies worldwide, whilst his latest, Adapt: Why Success Always Starts with Failure advocates a trial and error approach to various aspects of society and daily life, with an emphasis on being able to adapt.
Q: What is a dangerous idea?
A: You'll never know until it is too late.
Q: What are you looking forward to seeing  at FODI?
A: Jane Bussman and Germaine Greer.
Q: Strangest question you've been asked?
A: A rich, vigorous elderly gentleman found that his young mistress was about to get married, and asked me if it would be appropriate to pay her half a million dollars or so to continue a discreet relationship with him.
Q: Favourite book and why?
A: It depends what day you ask me. Today, it's the Tao of Pooh by Benjamin Hoff.
Q: Most important idea of the last 10 years?
A: Applying the methodology of drug trials to prison reform, education and economic development. (The idea is older than 10 years but only really caught on about 5 years ago).
Q: Is it ok to steal an idea?
A: I would say "copy" rather than steal, and it depends what the idea is and what you do with it. I don't think it's okay to copy photographs, books and music without making some effort at identifying and rewarding the creator, and it is always polite to give credit. But all new ideas are built on old ones so we need to be pretty relaxed here.
Q: Rapid technological development can cite fear in people, what advancement are you scared of?
A: High frequency trading. It may end up being very useful but we've not asked the hard questions about what it could mean for financial stability.
Q: What potential change excites you?
A: Cheaper ways to produce clean energy, or more efficient ways to use energy.
Q: Twitter is _____ and Facebook is _____
A: Twitter is brilliant; I'm @timharford, see you there.
Q: Mac or PC?
A: Whatever works. My wife is a photographer and uses Macs. I use a PC. I find the idea of taking sides ludicrous.
Q: Best thing you've seen or heard this week?
A: David Weir winning the wheelchair marathon at the paralympics. He also won the 800m, 1500m and 5000m, which is pretty superhuman. I saw him in the 800m in the stadium itself – it was a wonderful atmosphere.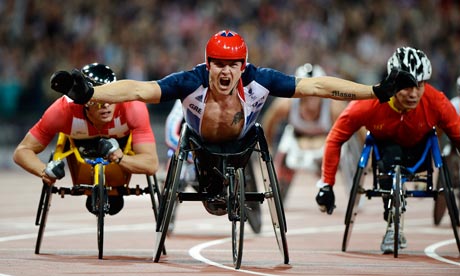 Q: Favourite YouTube clip?
A: It defeats the purpose of YouTube to have a favourite – the whole point is that you can find almost anything there. But since you insist, I love the obscure stuff. Try 'Karl Sims Evolved Creatures 1994′.
Tim Harford will speak at FODI on why we should Make More Mistakes, Sat 29 Sept, 2pm – for more information click here.